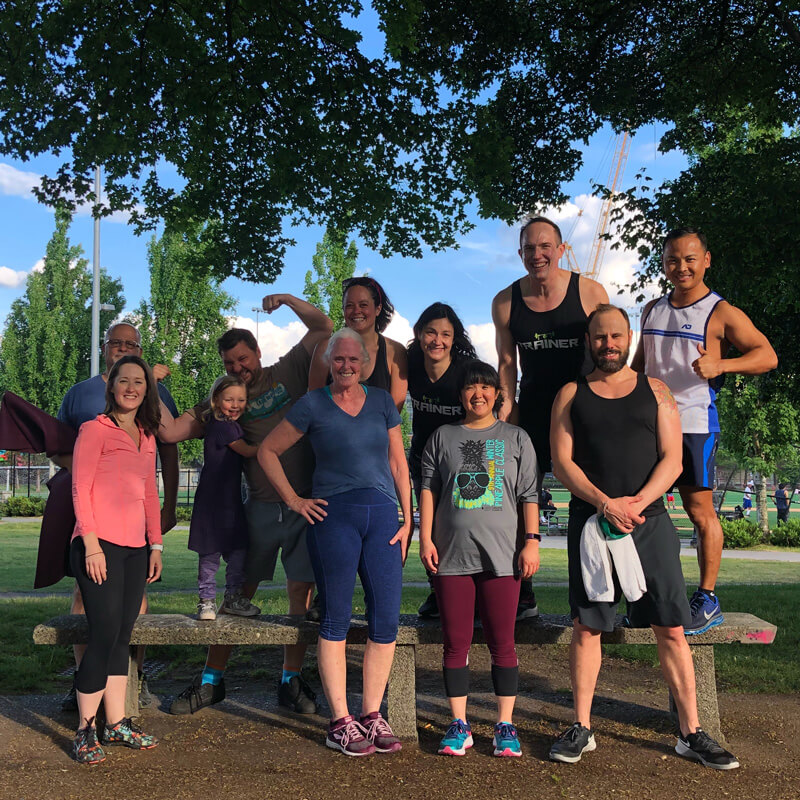 Q: Is it like waaaaay hard?
A: It's exactly as difficult as you want to make it! Everyone goes at their own pace. Many people modify or skip some moves. That is more than okay– it's encouraged! What's most important is listening to your body and honoring what it needs that day.

Q: Can I bring my kids?
A: Yes, children are welcome to attend with their guardians! Please supervise them closely at all times. Note that we cannot guarantee our event will be free of profanity. Parents' discretion is advised.

Q: I have to work until 6:00 pm. Can I join class late?
A: Absolutely! We understand everyone's schedule is different. If boot camp is already in progress, just grab a mat and join in when you're ready. Boot camp ends by 7:00 pm. (New clients: Please sign your waiver before jumping in.)

Q: Do I have to RSVP?
A: No; we share your fear of commitment, Seattle! That's why this class is drop-in style with no RSVP necessary. Not sure how you'll feel that day? Bring your gym shoes to work, just in case! We even have extra mats available if you talk a coworker into attending last minute…

Q: Is this one of those "by donation" "free" events?
A: Nope, it's truly 100% free! We do not accept tips. However, if you'd like to show your appreciation, the best way is by leaving us a review or giving us a word-of-mouth recommendation. Or just come, have fun, and work out with us! Seeing your smiling faces as we get stronger as a team is why we do this!
More info available at Boot Camp 2019!